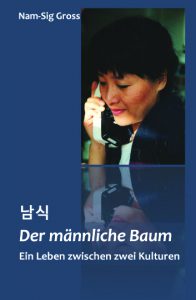 – One Life between Two Cultures –
"A river never returns to his source, are the last words of an old man near his last breath. In the end every river is full of uncountable experience won along the way of its journey. To reflect about all events before the river disappears in the ocean is a nobel goal."
Nam-Sig means "male tree". However, it is a woman who has this name and who tells us her story. Her roots began to grow in South Korea, but in the course of her life her branches grew throughout the continents. With 19 she moved to Germany as a nurse – and to study music as a wish within her heart. She made this dream come true with perseverance and determination. From the perspective of a music teacher – and from mother's point of view – she describes her life with all obstacles and success stories in a very exciting way; sad and amusing at the same time. The author takes us on a journey back to the past. We learn much about her strong character, her love to music and her huge courage, which made her go the distance and achieve her goal in a foreign country without losing the trace to her homeland.
Now also available as E-Book!
You can order the E-Book online or at the store of your E-book reader.
For example: Amazon (click here)
You can order the book in print at all local bookstores as well as online at Amazon (click here) or other online-shops.
Note: Since the book is distributed in print-on-demand process, it is not in stock at Amazon, but after you place your order you will receive the book after a few days. Payments follow after the book is sent.